On the evening of Monday 17th July, the Transport Secretary Chris Grayling introduced the HS2 Phase 2a (West Midlands – Crewe) High Speed Rail Bill and confirmed much of the route of Phase 2b (West Midlands – Leeds and Manchester).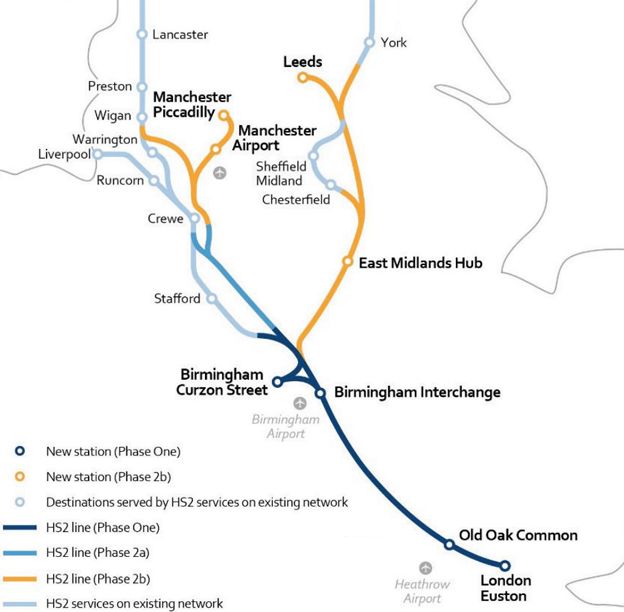 This came in the context of the widely publicised awarding of the Phase 1 main construction contracts, due to be signed by the end of the month, and worth an estimated £6.6bn. These winning contractors must now quickly demonstrate they understand local challenges as well as the assurances and undertakings given by HS2 Ltd.
We have previously raised concerns about the impact of Phases 2a and 2b on a number of our properties and the natural landscape. It will take a while to assess the detail of the hundreds of documents released by HS2 Ltd on Monday and but here's what we've been able to work out so far:
Phase 2a:
Like many people we are worried about the noise and visual impacts of a high speed railway so we are pleased to see some of our recommendations to mitigate these impacts have been adopted for the Shugborough Estate and the surrounding area. We are now working to establish how effective these are.
Additional protective measure include: [from HS2 Ltd's Environmental Statement]
Tree planting to the north of Moreton Grange and Moreton House.
Noise fence barriers to reduce noise impacts on surrounding communities and the historic landscape.
Landscape planting with a view to long term visual impact reduction.
Better integration of earthworks with engineering features in keeping with the landscape.
Ingestre 'green overbridge' aiming to provide ecological connectivity (which will also provide historic landscape connectivity for Ingestre's historic park and garden);
Modification of the Colwich Bridleway 23 accommodation 'green overbridge' at Moreton, to support hedgerow planting to provide ecological benefit and to mitigate visual effects.
Compensatory woodland and hedgerow planting.
Compensation for loss of field ponds with new wetlands, ecological ponds and biodiversity wetland features.
We'll need to consider these measures further and whether additional mitigation is necessary so that people can continue to enjoy this treasured landscape.
Phase 2b:

The route of Phase 2b was also confirmed and while the western leg of the 'Y' route does not appear to have substantially changed from the preferred route announcement in November 2016, the line's eastern route to Leeds from Birmingham will run east of Sheffield, with some trains going into the city centre via a new spur and existing lines.
HS2 Ltd is also recommending relocation of the proposed Eastern Leg Rolling Stock Depot from New Crofton to a site east of Leeds in the Aire Valley, adjacent to the M1. As well as potential visual impacts we have expressed concerns about the impact of construction and operation of the depot on the local road network and maintaining access to Nostell.
This recommendation is open to consultation and closes on 12th October 2017.
Consultations:
We believe that engagement with the process of consultation around the development of this scheme is the most productive way to improve protection of the environment and places along the route of HS2.
The consultation on the environmental statement for Phase 2a closes on the 30th September. We will be responding to this.

In addition HS2 Ltd has begun another consultation seeking views on the scope and methodology for the Phase 2b environmental impact assessment.  We will consider our response with regard to any potential changes from our last submission; working closely with our planning advisors. This consultation also closes on 29th September.
It looks set to be a busy summer for our HS2 Project Team.
Steve Field
Senior HS2 Project and Stakeholder Manager